A portable advanced electrocatalyst for polyphenolic chlorogenic acid evaluation in food samples
We designed a sustainable synthesis of silver zirconate nanoparticles through the co-precipitation method and incorporated it with graphene oxide to enhance the physical and chemical properties of the electrode material. The as-synthesized nanocomposites were well characterized with the help of various analytical tools and applied as the effect electrocatalyst for rapid electrochemical detection of CGA.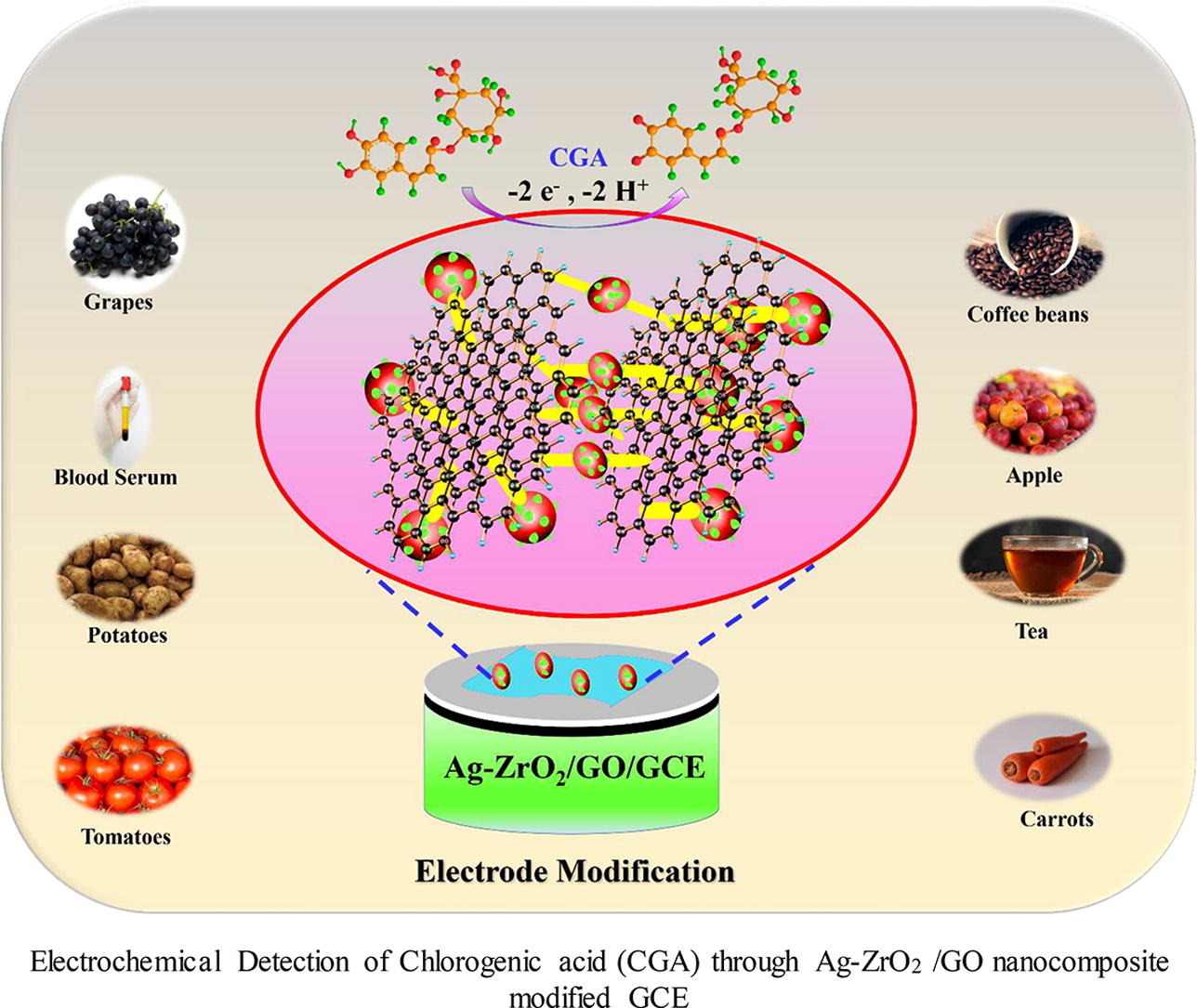 Technology Overview
AgZrO2/GO was prepared by ultrasonication-assisted co-precipitation method. AgZrO2/GO composite facilitate electrochemical reaction of CGA. It exemplifies excellent physiochemical properties with Nanomolar detection and stability. Real-time monitoring in environmental samples displays exquisite recoveries.
Applications & Benefits
The practical feasibility of the proposed sensor on the various biological, fruit, and vegetable samples expresses excellent recoveries between 95.08 and 99.55 %. Further, it paves way for the effective trace level detection of CGA in the various day-to-day samples with excellent sensitivity and with pin-point detection as a portable sensor.
Abstract:
Herein, we discussed a highly sensitive and selective sensing platform for the electrochemical detection of CGA in a biological and environmental samples. The high conducting properties of silver merged zirconate (Ag-ZrO2) were ultrasonically incorporated with graphene oxide (GO). The physical and chemical properties were successfully scrutinized through various physiochemical characterization techniques. Further, it was altered on the surface of the glassy carbon electrode (GCE) and implemented in the detection of CGA by various voltammetric techniques. The electrochemical impedance spectroscopy (EIS) exemplifies excellent electron transfer with a very low charge transfer resistance (Rct = 258.78 Ω). Under the optimum conditions, a linear current response of CGA was obtained from 0.5 to 347 µmol L-1 concentration with a low limit of detection (LOD) of 0.006 µmol L-1. The sensor has an admirable selective response to CGA against other co-interfering species. Moreover, it exhibits high repeatability, reproducibility, and storage stability towards CGA. The proposed sensor demonstrates exquisite recoveries (95.08–99.55 %) in practical feasibility analysis of CGA in biological, vegetables, and fruit samples. Its outstanding performance elucidated it as a promising platform for real-time monitoring of CGA in the ecological system.
A portable advanced electrocatalyst for polyphenolic chlorogenic acid evaluation in food samples
Author:Krishnapandi Alagumalai, Ragurethinam Shanmugam, Shen-Ming Chen, Balamurugan Arumugam, Tse-Wei Chen, Jaysan Yu, Xiaoheng Liu, Sayee Kannan Ramaraj
Year:2022
Source publication:Chemical Engineering Journal Volume 435, Part 1, 1 May 2022, 134796
Subfield Highest percentage:99% Industrial and Manufacturing Engineering #3/336
https://www.sciencedirect.com/science/article/pii/S1385894722003035