Aggregation Control, Surface Passivation, and Optimization of Device Structure toward Near-Infrared Perovskite Quantum-Dot Light-Emitting Diodes with an EQE up to 15.4%
In this study, we demonstrate the highest EQE recorded for perovskite-based NIR-I QLEDs through a comprehensive optimization strategy, including the development of ligand-passivated FAPbI3 QDs, the introduction of hole-transporting layers (HTL) for tuning the synergistic coverage effect between QDs and HTL, and the incorporation of effective electron-transporting layers (ETL) for constructing a feasible device structure that finally leads to high-efficiency perovskite NIR-I QLEDs.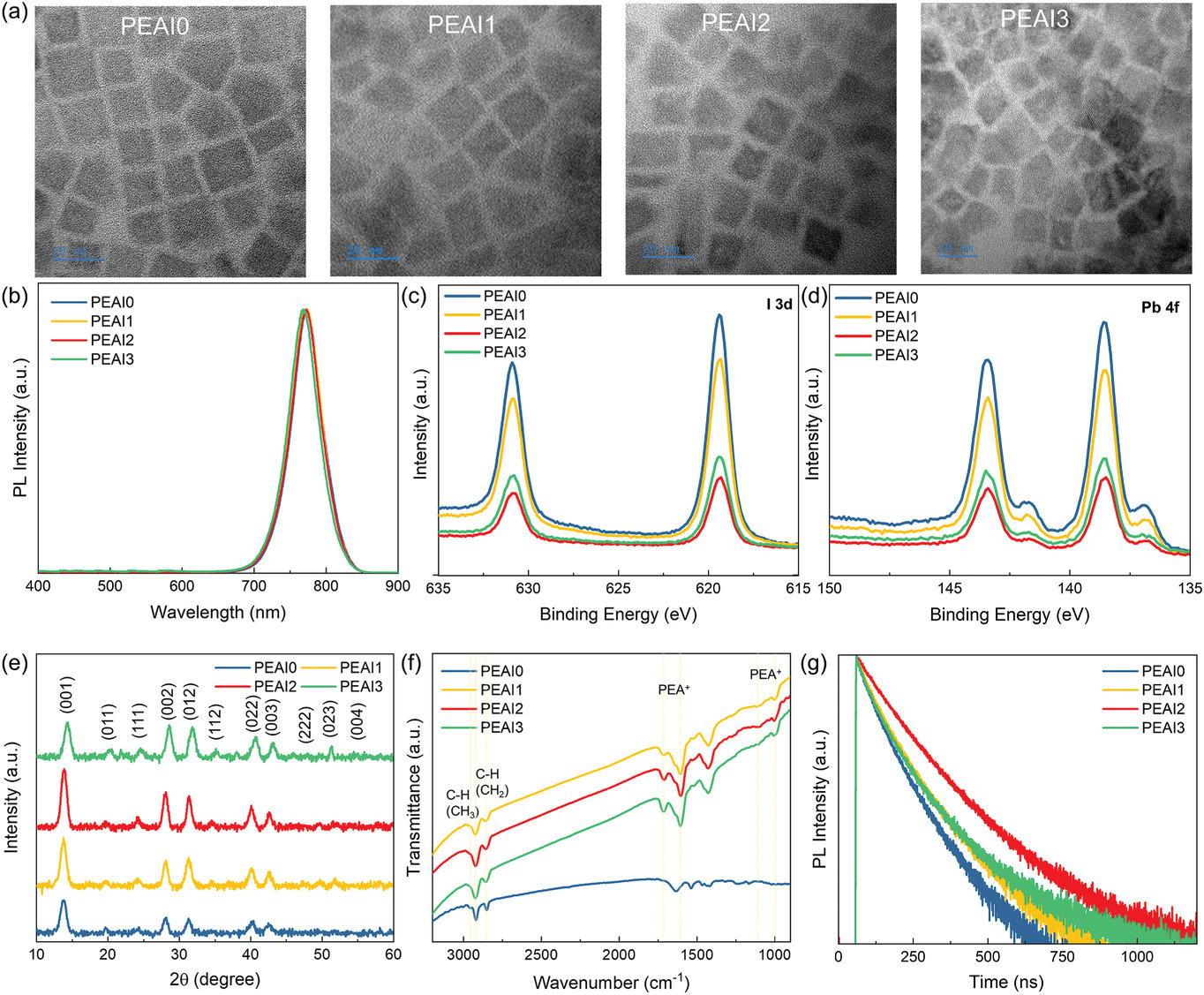 a) TEM images, b) XRD patterns, c,d) I 3d (c) and Pb 4f (d) XPS spectra, e) PL spectra, f) FTIR spectra, and g) TRPL decay curves of FAPbI3 QDs treated with different PEAI concentrations.
Technology Overview
Thermoelectric performance and thermal stress of a TEM with square pin fins are examined. The temperature distribution in a TEM is uneven due to differences in heat transfer. The maximum thermal stress occurs at the corners of the TEM's leg. The optimization method can effectively minimize thermal stress without losing power. The maximum thermal stress is reduced by approximately 11.78%.
Applications & Benefits
The presented VB-FPND/PEAI2/CN-T2T film stack is a superior device structure with improved carrier injection and radiative recombination in the QD layer for giving FAPbI3 QLEDs with EL λmax at 772 nm. The optimal device achieved an EQE up to 15.4% at 2.6 V, representing the best device for a NIR-I perovskite QLED ever reported so far.
Abstract:
In recent years, the performance of perovskite quantum dots (QDs) and QD-based light-emitting diodes (QLEDs) has improved greatly, with electroluminescence (EL) efficiency of green and red emission exceeding 20%. However, the development of perovskite near-infrared (NIR) QLEDs has reached stagnation, where the reported maximum EL efficiency is still below 6%, limiting their further applications. In this work, new NIR-emissive FAPbI3 QDs are developed by post-treating long alkyl-encapsulated QDs with 2-phenylethylammonium iodide (PEAI). The incorporation of PEAI reduces the QD surface defects for giving a high photoluminescence quantum yield up to 61.6%. The n-octane solution of PEAI-passivated FAPbI3 QDs is spin coated on top of the PEDOT:PSS-treated ITO electrode modified with a thermally crosslinked hole-transporting layer to give a full-coverage, smooth, and dense QD film. Incorporating with an effective electron-transporting material, CN-T2T, which has deep lowest unoccupied molecular orbital and good electron mobility, the optimal device with EL λmax at 772 nm achieves an external quantum efficiency up to 15.4% at a current density of 0.54 mA cm−2 (2.6 V), which is the highest efficiency ever reported for perovskite-based NIR QLEDs. This study provides a facile strategy to prepare high-quality perovskite QD films suitable for highly efficient NIR QLED applications.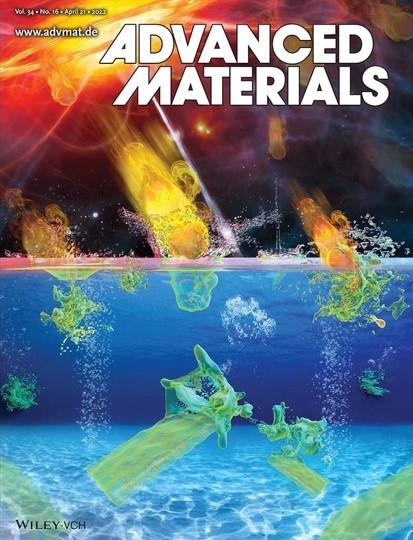 Aggregation Control, Surface Passivation, and Optimization of Device Structure toward Near-Infrared Perovskite Quantum-Dot Light-Emitting Diodes with an EQE up to 15.4%
Author:Zong-Liang Tseng, Lung-Chien Chen, Li-Wei Chao, Meng-Ju Tsai, Dian Luo, Nurul Ridho Al Amin, Shun-Wei Liu, Ken-Tsung Wong
Year:2022
Source publication:Advanced Materials, March 2022, 2109785
Subfield Highest percentage:99% Mechanical Engineering #2/596
https://onlinelibrary.wiley.com/doi/full/10.1002/adma.202109785